Writing Close – Character Awareness
Okay, who here doesn't love The Mummy? This is one of those movies that is universally enjoyed by fans of every genre (generally speaking). It is campy, scary, funny, romantic, thrilling, nostalgic, and action-packed. It checks basically all the boxes for movie fans. And best of all (at least for the purpose of this discussion about awareness between characters), the chemistry between the romantic leads is perfection.
I mean, who doesn't love Brendan Fraser and Rachel Weisz just on their own merit?
I am very excited to be able to use this movie as my example of writing close character relationships, and it's all thanks to one little old line that most people probably missed:
You're in her seat.
Writing close character relationships can be very hard for some writers. It's not like plot and world building and character descriptions. It's not something you can record in a chart and then translate onto a page in story form. The large, plainly visible tools (like touching or sharing secrets) can be powerful, but some of the most effective methods for communicating closeness are more fluid and ambiguous. It is much more dependent on the context and reading between the lines.
This little line, this "You're in her seat," seems like nothing on its face. It doesn't further the plot or incite a laugh. It's not titillating (no I still can't spell that word without looking it up) or yearning or smoldering or any of that, so you wouldn't think it's much in the way of romance. There's no heroics or grand gestures. None of the usual romance cliches.
This line always gets me, though. Every time, I smile and think, "Oh, he's got a huge crush on her. It's adorable." And why? Because it's a simple way to communicate to the viewer that Rick is always aware of Evie.
This is the moment in question. The men are all sitting around, talking about their treasure finds for the day. But when Evie arrives, Rick immediately clears "her" seat next to him. She then sits down next to Rick like nothing unusual has happened.
Layers of Meaning
This little exchange works on many levels for three different characters. First, Rick acts completely in character. He doesn't say to Beni, "Would you mind making room for Evie?"
Nope, it's "You're in her seat." And when Beni laughs, Rick's only follow up is, "Now!"
Beni's yeah-right laugh, followed by meekly doing what he's told, is also entirely in line with his sycophantic characterization as well.
And Evie's obliviousness to the entire situation (in light of her desire to talk about the scarab skeletons she'd found) was so complete, I doubt she even noticed Beni had been asked to make room for her.
So this little exchange — lasting a grand total of six seconds — has reinforced 3 separate characterizations for the viewer.
But what does any of this have to do with the relationship between Rick and Evie?
First of all, as I mentioned before, Rick's immediate action to make room for Evie in the best spot (and next to himself) is proof that he's basically always aware of her. When she arrives, he automatically accommodates her. And the fact that Evie went straight to that seat when it was already occupied by Beni is proof that she has already gotten comfortable with the fact that she belongs right next to Rick. That is HER seat. It just is.
Subtlety
This awareness gig is one of the more subtle tools in the romance toolkit. It requires context. If Rick had used the phrase "You're in her seat" in order to clear a space next to her brother (and not next to Rick himself), it would have communicated vastly less about their relationship.
"Awareness" also requires constant reinforcement. There were plenty of other ways in which Rick displayed the fact that Evie was frequently on his mind, including one incident where he pilfered an archaeologist's tool kit as a gift for her.
And of course there's always this kind of moment: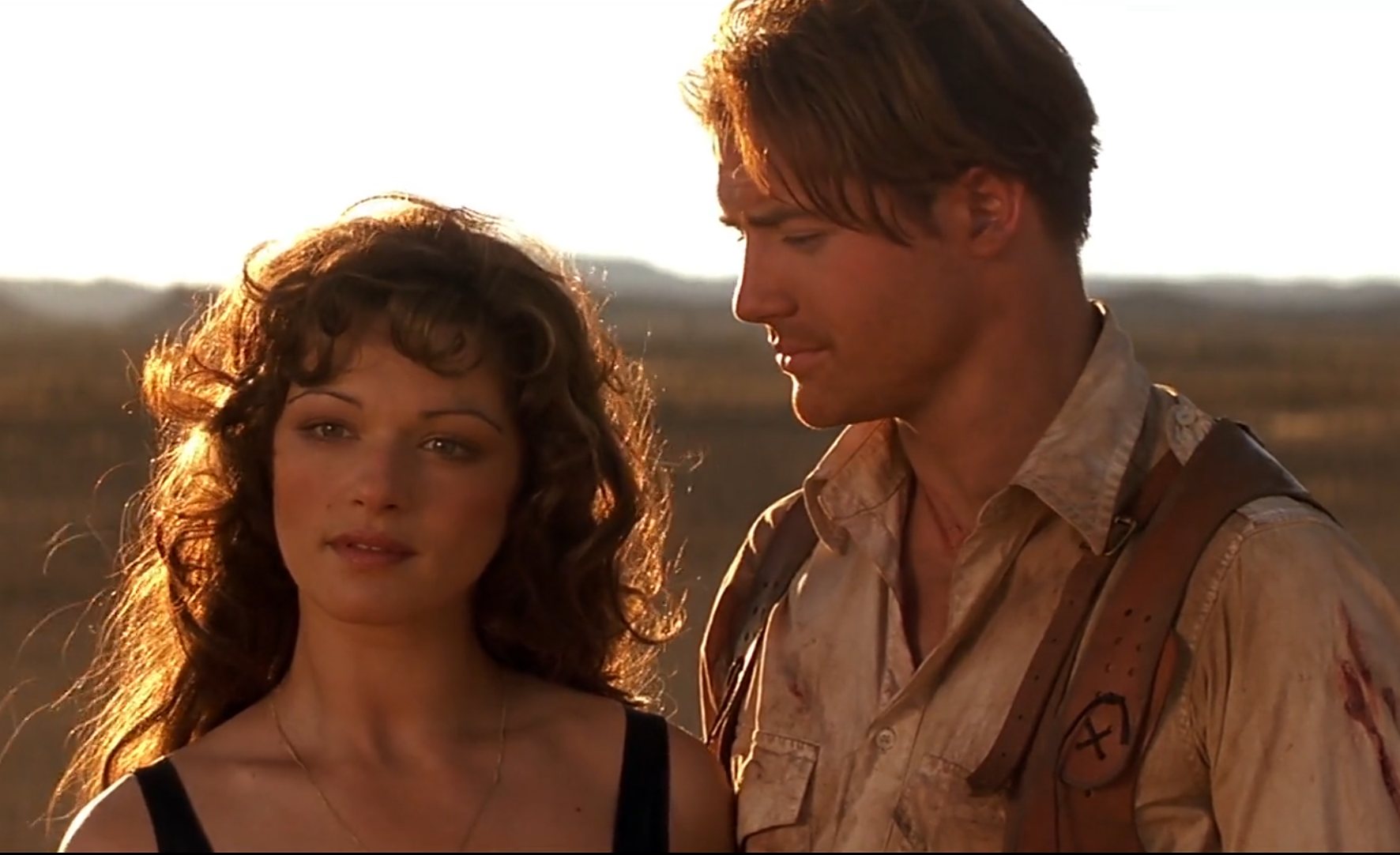 Now that's a man thinking about a woman, right there. Unmistakeable.
In contrast, their kiss early in the movie did very little to make their relationship feel close. You'd think a kiss would be the most obvious way to bond two characters, but in the wrong context, it's just sexual harassment.
And worst of all, when you draw attention to the awareness, the magic is ruined. Not one character present at that campfire could have missed the fact that Rick was sweet on Evie. But if any one of them had mentioned it out loud, the concise moment would have taken a sharp left turn into cheeseville. These little moments must be allowed to slide right on by.
Other Examples
If you look closely, you'll find examples of awareness in all your favorite books. And once you start to see them, you'll be better prepared to include them in your own stories.
In I Owe You One by Sophie Kinsella, Fixie is constantly thinking about her crush, Ryan. It's done in several concise ways: when the phone rings, Fixie hopes it's Ryan. When her brother arrives, "Is Ryan here yet?" And quite possibly my favorite line in the whole book:
An hour later Ryan still hasn't arrived and I'd quite like to stab Uncle Ned.

Chapter 5 – I Owe You One by Sophie Kinsella
Ryan isn't even present. The scene is about Uncle Ned, and yet the reader is reminded how much Fixie thinks about Ryan.
And of course I can't mention romance without bringing up Pride and Prejudice! (Forgive me. It's my favorite book.) Elizabeth is forever fretting over what Darcy must be thinking when Mrs. Bennet starts talking. There are too many instances to list here.
What are your favorite examples of a character's thoughts dwelling on another? Let me know in the comments!