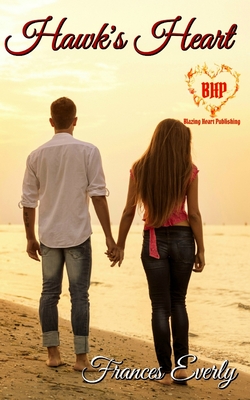 Author: Frances Everly
Published by: Blazing Heart Publishing
Publish date: February 21, 2020
Genre: Romance
Audience: Adult
Rating: Four Stars
A perfect fit for soap opera lovers, Hawk's Heart is full of enough twists and turns to give a reader whiplash — but in a good way.
Hawk's Heart is about a woman named Sarah and her struggle to sort out all the men in her life.
First to be introduced is JJ, her childhood crush. Then comes Alex, a Hollywood A-lister and playboy. And later on we meet her ex husband, Bruce, who is an outright asshole, btw.
Come on, Bruce. Ease up.
Then you have her father and son as well, who come with their own sets of complications. All in all, poor Sarah has a lot on her plate, and that's just to start with. So if you're a fan of romance, love triangles, paparazzi, and emotional roller coasters, then this is the book for you.
Pros
First, the pros. Hawk's heart was a lighting fast read. Author Frances Everly has a smooth, easy-going voice. It could use a little more polish, but that's just me being picky. The story was well filled out and satisfying, and the characters were all just perfect. I honestly had a hard time predicting who Sarah would pick, because she had excellent chemistry with both Alex and JJ. It's hard to create chemistry with a second love interest. It's too easy for a character to have carbon copy relationships with two men, which is why many love triangles are based on "which one do I like more?"
Instead, Sarah's relationship with Alex was wildly different from her relationship with Jack. And both were amazing for different reasons. So Sarah had to decide between two men that were both perfect for her. Bravo, Everly.
The heat level was perfect for this book as well. It was plenty steamy enough to be satisfying without overshadowing the story.
Cons
But if you know me, I can always find something to pick at. Fortunately none of my cons were deal breakers by any means.
Though Hawk's Heart is billed as a Hollywood romance, there isn't much Hollywood about it. The paps make only a couple of appearances, and Alex's movie star status doesn't come up much. So even though the book was great, it turned out to be different from what I expected.
I really loved Marissa Tate's character (loved to hate, I should say). But she kind of disappeared about halfway through. I was a little disappointed about that.
And my final complaint, probably the only reason I didn't give this book five stars, is that Sarah was a very passive main character. She had very little agency, and most of the story revolved around her dealing with things that happen TO her. I have enjoyed it more if she made a few things happen herself.
Even the resolution with Bruce came about because he apologized of his own volition. The only part she took in the entire thing was to accept his apology. It was very out of character for him, at least from what I knew of him. He was a full tilt asshole for every appearance he made, until suddenly he showed up to apologize. This wasn't so much a soap-opera-style dramatic twist. It was more a quick and dirty tied-up loose end.
I also found several typos, which was disappointing. But I'm coming to expect that in self publishing.
But all in all, Hawk's Heart is a good time. Grab a copy and settle in.
Have you read Hawk's Heart? Let me know what you thought of it in the comments below! And don't forget to check out my other book recommendations before you go.