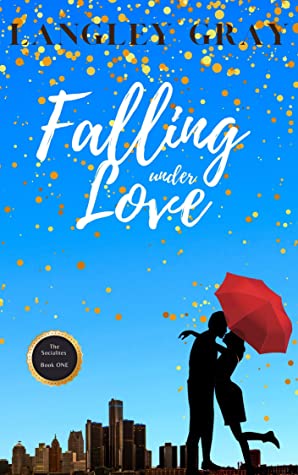 Author: Langley Gray
Published by: Amazon
Publish date: January 5, 2021
Genre: Romance
Audience: Adult
Rating: Three Stars
If I wasn't hooked by the first sentence, I was certainly done for by the fifth.
The first line of a book is arguably the most important. So I was unimpressed when the first lines of Falling Under Love were an over-the-phone customer service spiel
But author Langley Gray didn't make us wait long to get to the hook:
Winnie placed the phone gently back on its cradle. When she was sure the call was disconnected, she picked it up and slammed it back down twice.

Chapter 1 – Falling Under Love
That burst of fiery personality was all it took for me to decide this book was going to be a winner. With a main character like that? Sign me up.
Falling Under Love is available on Amazon and Kindle Unlimited. You can read more reviews for it on goodreads.
The idea of billionaire Winnie White trying to make a go of it on her own steam with her start-up company was promising. And the meet-cute between Winnie and Zane, oof. I felt that one to my toes.
The building blocks were all there. Fantastic characters, dreamy love interest, simple-yet-pleasing plot setup, and real chemistry between the romantic leads.
So imagine my disappointment when it immediately fell flat and never recovered.
Fire to Flop
My biggest hangup is the characterizations, especially Winnie's. What started out as a fiery, no-nonsense, go-getter took a sharp left turn into snoozeville when she first meets up with her three socialite friends. For some reason, when these four women get together, all characterization went out the window and they all turned into identical squeally airheads.
There was no differentiating between them, Winnie included. They have different names, sure. And there was probably a mention of a different hair color, but otherwise they're indistinguishable.
I was shocked that the main character I had already fallen in love with seemed to have dropped off the map so completely.
And I get it. Winnie has met up with lifelong girlfriends. Of course they're going to squeal a little. But for them to morph into identical clones of each other when they're together? I simply could not tell these women apart.
And then Winnie took another sharp left turn. I kind of hoped she would revert to the fiery go-getter once she got away from her girlfriends, but she turned mean instead.
I honestly do not know what Zane liked so much about her. Winnie turned into a massive ice-queen for the entire first half of the book. She refused to talk to him, and when she did, her rudeness was abominable.
She had a look on her face that was humoring him, nothing else.

"What is it?" she asked as a demand, rather than a question

"How may I help you, Mr. Rogers?" she asked, ice dripping from her voice.

Chapter 9 – Falling Under Love
And all this because Zane met her in a professional setting and made a business offer. He was the picture of politeness, and she was needlessly rude in response.
Then the next time they meet, when he doesn't fall over himself to be friends with her, she has the gall to wonder why.
Happy Ending for the Rich People
My second gripe has to do with the gala Winnie throws to spread awareness about RightfulHome.
I get it, this is a billionaire romance. If there wasn't a grand, sparkly party with A-list entertainers and entire trees lifted in by crane for decor, fans of the sub-genre would likely be disappointed. And when I started reading, I was looking forward to the glitter.
But in this case, the glam was kind of a slap in the face.
The RightfulHome app is "geared to facilitate connection between those living in subsidized housing and the legal services they so often don't have access to."
So, this app will be used by and marketed to people below the poverty line. People living in the projects.
But Winnie chose to spread awareness about it among the rich and fabulous by throwing them a giant, exclusive party.
By the end, the best summary of Falling Under Love was this tongue-in-cheek comment from Futurama:
Overall
I was prepared to give a four star rating to Falling Under Love for the first quarter of the book. And I would have done so despite my two big gripes. This book is light, easy reading, and satisfying. The author has a good voice, despite overuse of filter words.
Zane was a great character. He was handsome, polite, generous, and kind. I enjoyed his indulgent relationship with his little sister, Blaire, particularly when he couldn't bear to watch her drive anymore and took over.
Pfft. Brothers. Amirite? God love 'em.
But at the end of the day, I simply wasn't engrossed in this book, which I did not expect in the beginning. I only finished it so that I could write this review, and I probably wouldn't have if it had been longer.
Have you read Falling Under Love yet? What did you think of it? Let me know in the comments!
And as always, check out my other book reviews before you go!