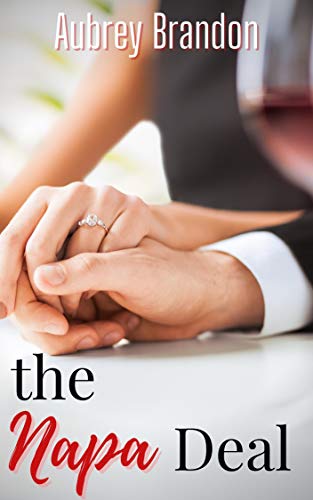 Author: Aubrey Brandon
Published by: Amazon
Publish date: January 15, 2021
Genre: Romance
Audience: Adult
Rating: Three Stars
The Napa Deal is a quick, light hearted read, perfect for a lazy weekend or to pass time during a commute. The romance is satisfying, and Brandon basically painted a picture with her lush descriptions of the Napa landscape.
The Napa Deal is currently available on Amazon and Kindle Unlimited. You can check out its Goodreads page for more reviews and ratings, and visit the author's site here.
I'm not one for traveling much (in the real world), but after reading The Napa Deal, I wouldn't mind spending a few lazy days on a vineyard, sitting on the back porch with a glass of wine and watching the California sun set over the rolling fields.
The heat level was just right for this situation. There was enough steamy, explicit content to satisfy, but it didn't overshadow the romance and story.
This book isn't all sunshine, though. I rated it a 3 because, though I did enjoy it enough to finish it in good time, I probably won't read it again in the future.
Positives:
Harrison has a well rounded character from the beginning. The stereotypical business man with a slew of beautiful, one night stands is softened not by having a sympathetic sister, Caroline, but by his character flaw of trying to take care of his sister's problems for her.
Their sibling relationship was lovely throughout the book, and I appreciated that Harrison never lied to Caroline about his situation with Emily. This was a classy move, both for Harrison's characterization and for Brandon as an author. She could have easily used that lie as a cheap source of drama, but she chose to make them supportive and honest with each other instead. As a little sister myself, this was refreshing to read.
I was disappointed that this relationship didn't progress much after the first chapter. They did have a lovely relationship throughout the book, but it was flat. I expected to see an arc revolving around Harrison's tendency to solve Caroline's problems for her, but it never happened. Fortunately, the epilogue hints that this storyline will continue in a sequel, so the reader can realistically look forward to that in the next book.
The small cast of characters was another positive. Brandon was able to focus enough attention on the few side characters that they were very well rounded. My favorites were Annette, the outspoken and opinionated assistant, and Matilda, whose sharp eye can see love before the lovers see it themselves.
Negatives:
There were quite a few problems with The Napa Deal that prevented me rating it any higher than a three. They are relatively small problems, but there's a lot of them. And they're mostly centered on Emily.
The main character, Emily, had a very flat characterization. She was somehow both an ideal and not ideal at the same time. During Harrison's POV, Emily is beautiful, successful, accomplished, capable, and perfect in every way. During Emily's POV, she is worthless, sad, pining, a failure, and unattractive. Aside from liking and being good at her job, everything else about her characterization was very sad.
From both points of view, the characterization is entirely flat. Half the time, she is perfect in every way, with no flaws or human reality to round her out. The rest of the time, she is so miserable I don't much care what happens to her.
This seems to be a case of "have your cake and eat it, too." Brandon has made Emily a perfect woman, but she has given her a poor self esteem in an attempt to make her relatable. But when poor self esteem is your ONLY flaw, it ceases to make sense.
Obliviousness
Despite everyone's insistence that she's beautiful, Emily disagrees.

"You're only young and beautiful for a while. Better take advantage."
[Emily disagrees.] "Not that young. And hardly beautiful."

"Because you're beautiful, Emily."
"That's just silly."
And for someone so capable in a high demand, jack-of-all-trades job, she oddly doesn't notice when she's getting hit on.

"He was flirting with you and you know it."
Emily's brow knitted in confusion. "Flirting with me? I know no such thing."
She also doesn't seem to notice that Harrison isn't just fooling around. Throughout the book, she maintains that Harrison doesn't really care about her. Their fake engagement is only business.
I'm not sure how she rationalizes that against the fact that they are constantly hugging, touching, kissing, and holding hands when they are alone. Most of that is instigated by Harrison, in the usual style of the "male love interest lavishes huge amounts of attention on the woman" cliche that exists in romance.
If this were just a deal, he would only be romancing her while there are people around to see it. And if he were only interested in the sex, then he wouldn't be treating Emily like a girlfriend around the clock.
…and she's crying again.
My final complaint about Emily is the one that bothered me most: She is the weepiest human being I have ever heard of. It got to the point that every time she started crying, I rolled my eyes.
By the time I got to the 75% mark, I got curious. Fortunately I was reading the ebook, so I used the handy search capability. These are the results:
Tear (tears, tearing, teared) – 47 instances
Cry (crying) – 18 instances
sob (sobs, sobbed) – 7 instances
And that's not including other phraseology that may have been overlooked, like "Harrison reached up to wipe the track from her cheek."
That's a total of 72 references to crying. By comparison, the word "deal" was used 77 times. (I chose "deal" as my benchmark because the main plot of the book focuses on the land purchase deal and their fake engagement deal.)
At one point, Brandon even went so far as to use this line: "She spent the afternoon crying…"
Yeah, I'm not surprised. Emily, get a hold of yourself, girl.
Other:
Brandon has a natural, easy-to-read voice, but she has room to improve. The sentence structure, especially during the exposition, suffered from over complication and outright run-ons. This damaged the readability slightly, but not too much to make me stop reading (and I'm a picky reader).
She also over used something called "filter words," which materially damaged reader immersion. These are minor things all new writers struggle with, however, and I have no doubt that future books will be even better as Brandon grows as an author.
Final Thoughts
Overall, The Napa Deal is not going to be an all-time favorite of mine, but I did enjoy the read. If you like light hearted romance, beautiful settings, and happily ever afters, this book will check all the boxes.
To read more reviews, click here! And don't forget to leave a comment below. What did you think of The Napa Deal?