I bought the ring for two dollars at a junk store in Pittsburgh.
It's made of cheap metal with an adjustable band. The faux filigree isn't even done very well. There's a sharp edge sticking out of the side of the design – an imperfection from the molding process that didn't get filed off. And in the center of the design is a smooth, white plastic "gem."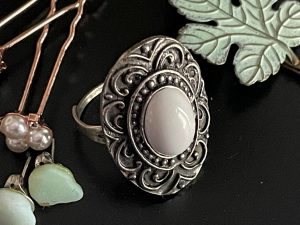 All in all, it was worth the two dollars. But I'm not sure it was worth the heartache.
Let me just say, before we get too deep into this, that there is no deeper meaning to this story. There's no allegory, no personal revelation. It's just a cheap ring and the manic determination of the author who bought it.
And a smell. Dear god, the smell. But we'll get to that lower down.
My husband and I were on a business trip to Pittsburgh, which is a long way from (and a lot colder than) Puerto Rico, where we live. One of his bigger clients was having a huge Christmas party for their office, and they flew us up to meet everyone.
We arrived a day early and spent our free time exploring Pittsburgh. In addition to a little shopping and geocaching, we hit up a couple of junk stores. We strolled through the booths, grabbing little things here and there, and I found a tray full of old costume jewelry. I picked through them and found a couple I liked, including the filigree one with the white plastic gem. I bought them, a couple of books, and a cool glass jar, and went about our day without thinking twice about it.
That night at the party, it happened. The plastic gem fell off of my ring.
"Oh no!" I said, showing my husband. "I really liked this one."
"Here, put it in my pocket," he said. "You can glue it back together when we get home."
That was a great idea, and I did exactly that. I put the plastic gem in his pocket, and I wore the metal part without it for the rest of the night.
We enjoyed our trip, and left Pittsburgh having made a whole gaggle of new friends at the Christmas party. When we got home, I unpacked everything, but I couldn't find the plastic gem. I looked in my husband's pants, in the zipper pouches of my wallet and toiletries bag, in every little nook and cranny of our luggage. It was gone.
I chalked it up to indulging too heavily at the after party. We probably lost it somewhere between the hotel bar and our room. So I put the ring in my findings drawer, thinking I could probably find something else to fill its empty setting.
Well, months pass, and I forget about the ring. Until, randomly, I found the missing gem.
Last night, as I was helping my husband pack for another trip, I dumped my toiletry bag out to sort through the contents, and there it was! It had been there all along. So I excitedly dug out the ring and my glue…
And fucked it up. I got glue EVERYWHERE. All over the ring, the gem, and my fingers. So I had to clean it up. I scraped off the glue, got the Goo Gone after it, and then went to wash it off.
But soap is slippery, and so is Goo Gone. And the little plastic gem slipped out of my fingers and into the sink full of dirty dishes.
"Damn frick shoot nuts!" (That's a direct quote.)
I pulled all the dishes out of the sink, checking each one for the plastic gem, but nothing. It had gone down the drain.
So what do I do? Why, I haul everything out from under the sink and take apart the drain, that's what. Ugh it stank, and the water in the trap was disgusting. And worst of all, the gem wasn't in the trap. It was light enough (being made of plastic) that the water carried it through.
But a little plumbing won't stop me. I had come this far, I wasn't going to give up now. So I put the sink back together and high tailed it outside.
Our gray water (sink, shower, washer, etc) empties into our yard. The previous owners built a decorative cement bridge over the ditch where it empties, and the area is so overgrown with elephant ears that it kind of puddles up under there to compost naturally.
I pulled the elephant ears out of the way to get access to the drain, laid down in the grass, and reached in.
You remember my earlier mention of "dear god, the smell"? Well, this is the smell I was referring to. The "water" in this drainage puddle is literally gray. Foamy, stinky, thick. I pulled out slugs, stringy vegetable matter, rocks, and… other things. Unidentifiable things. And DEAR GOD THE SMELL. How can something that has no fecal matter in it smell so uncannily like vinegary shit?
It was about this time that I thought to myself, "What the fuck are you doing? It's a piece of plastic that goes to a two dollar adjustable ring. Get a hold of yourself. What has your life become???"
So I got up, held my disgusting arm out to keep the fetid water off my clothes, and went inside to pull myself together. I scrubbed my arm with dawn all the way up to the armpit, dried off, and went to do something productive.
Except… what's that smell? I nosed around. It's not my clothes. It's not the trash can over there. Oh my god, it's my arm. It still stinks. Oh. My. God. THE SMELL.
So I went upstairs and SCRUBBED my arm with heavily fragranced hand soap.
No dice. The SMELL followed me everywhere.
So I turned on the shower and grabbed my tube of exfoliating charcoal face scrub. I lathered up my arm and exfoliated the hell out of it for a good three minutes. If anything could vanquish a SMELL, it would be an exfoliating scrub and charcoal.
But my friends, even that failed. I have given up. I am defeated. Doomed to stink probably until a few layers of skin naturally slough off. The SMELL lingers, even as I type this. It's faint, but it's there. Like a rotting port-a-potty left too long in the sun. Or like that isolated corner at the beach with no bathrooms. You know the one I mean.
The good news is that afterward, I found the plastic gem inside a cup in the sink.