Oh my god guys, it's been WEEKS since I've posted anything. And here I am throwing the 90s at you like I've been here all along. — God, I have no idea what that means. I'm tired. Let's blow through the preamble and get right to the point of this post: The Mirror Has Two Faces.
So this movie came up on my Netflix yesterday, and I needed some background noise while I did some drawing, so I turned it on. We can never have enough of Barb, I always say.
I probably saw it several times as a kid, because even though I remembered NOTHING about it, several of the scenes and lines felt like intense deja vu. But I'm glad I didn't have any preconceived notions about it, because watching this movie through the lens of current gender politics and beauty standards was a real trip.
For anyone who doesn't know, The Mirror Has Two Faces is about a college professor who agrees to a companionship-only marriage with a colleague. Greg is under the impression that sex ruins relationships, and therefore this is the only way to have a truly happy marriage.
Poor Rose thinks she's not pretty enough to love, so she settles for the first guy who asks her. And since they're best friends anyway, at least they won't be unhappy, right?
Well, of course it doesn't work out, because we all know that you need both physical love and friendship to make a good romantic partnership. Thus we have our conflict.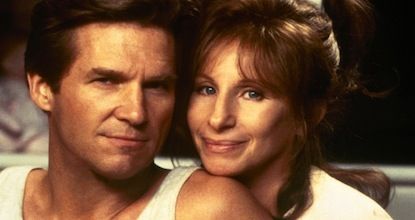 The Big Relationship
I was interested to see how this could work, since the basic romance signpost is prohibited: no sex. Ever. Sex would be the end of the relationship. And not in a naughty, forbidden, sexy way. Rose says it herself: "Sometimes we're so "polite" to each other I feel like we're two roommates living in a charm school!"
So how does this relationship grow? Politeness isn't the best recipe for closeness. (Ooh, I need to do a post on that for the writing close series…) Well the recipe here was by having them receive tangible benefits from the relationship.
Greg is a terrible, wooden teacher whose students walk out in the middle of class. Rose is a fantastic, engaging teacher. So she gives him pointers. He starts wearing jeans to work, faces the students, uses relatable topics. He relaxes a little. This also helps him write better.
Rose didn't gain anything at all aside from a ring on her finger. Her closeness was displayed by the fact that Greg noticed and appreciated the particular way she ate her food.
I didn't much care for either tactic as a means to bring the characters closer. First, Greg likes her, why? Because she proved valuable to him at his job.
And she likes him, why? Because he likes her? Meh.
Meh.
Yes I said that twice. I meant it twice.
The one thing I did really feel was their first date together. Greg is nerding out about math, and she 1) completely understands what he's talking about, 2) seems genuinely interested in the subject, and 3) finds his nerdiness charming. This works so much better for me, because their conversation felt natural. Greg lit up when she engaged in the conversation, when everyone else always tunes him out. And later, during a freak out, he makes it clear just how much this moment meant to him.
It's actually a bit of a "Jesus Greg, chill the eff out" kind of moment. A student doesn't understand the assignment, and he literally screams at her, "My wife understood this on our first date!!!!"

Yeah, four exclamation points. I'd have dropped the class if a teacher ever treated me like that. Fucking hell, Greg. I know you're in a tough spot, but damn. Keep it together.
But plot wise, this line is gold. It really highlights how much Rose is on his mind, because she is the benchmark he uses to compare the world to. That relationship device worked like a charm. It falls nicely into the Awareness tool in the romance toolbox.
Self Esteem is a Bitch
Guys, remember back in school they're always talking about self esteem? It seemed like such a big deal back then, but after watching this movie, I realize I haven't thought about self esteem in like, 15 years.
God, I'm an adult, aren't I? Sometimes I still feel like I'm in high school. Which, oddly enough, is a sentiment shared by Rose's mother, Hannah.
"Inside I feel young, like a kid. That it's just the beginning. Like I have everything ahead of me. But I don't."
Ouch, Hannah. Right in the feels.
Anyhow, back to the point. I didn't realize for the entire first half of the movie, but Rose thinks she's the ugly one in the family. I personally find this hilarious, because to me, she's the pretty one. Her sister is not great looking by today's standards – too made up, painfully thin, old fashioned style. Rose, on the other hand, looks natural, confident, soft, and inherently pretty.
I mean, it's Barbara Streisand for Pete's sake! Why did she play so many characters that are supposedly ugly? She's a frickin knockout and always was.
And then her makeover ruined her, lol. She put on too much make up and fried her hair.
But that's not the point. We all know the 90s weren't great for a woman's self image, hence all the talk about self esteem back in school. They had really weird and unhealthy standards for beauty back then.
But self esteem proved to be an excellent characterization tool.
It naturally led to some seriously intense conversations between Rose and her mother. About how the little comments Hannah made in the past shaped Rose's entire image of herself. And how that poor self image led her to pine after Pierce Brosnan forever, and then settle for a marriage situation she didn't really want.
Even though this conversation had nothing to do with Greg, it still supported Rose's relationship with him (narratively speaking). Up until this point, Rose was just a token frump – lonely, sexually frustrated, flawed, relatable, but otherwise unremarkable as a character. All surface stuff. But after this conversation, she became fully fleshed out, human, hurt, and determined. She developed layers and layers, and it added an entirely new facet to her reasons for agreeing to the marriage in the first place.
This is a perfect example of how a sub plot supports the main plot. It must all push toward the main climax.
Well that was an awfully long ramble about a 30 year old rom com from my childhood. Jesus, 30 years? Is that right? Omg.
PS
Hold up. I mentioned gender politics way back at the beginning and then didn't follow through. That was referencing how Rose handled her breakup with Greg near the end.
First, she was right to break up with him. They wanted different things. Their situation wasn't fair to anybody. But afterward, even though she loved him and understood that he needed to learn a few things, she still feigned disinterest. It stank a little bit of "nice girls don't chase boys."
I'm not saying she should have chased him. But she deliberately lied to him and said, "I don't love you anymore." And all it took for her to run into his arms at the very end was… wait for it… he showed up at her apartment and told her he wanted her.
What I'm saying here is, if she wanted him that badly, why wait for him to come to her? Why not start a conversation with him? Instead of playing games by saying she doesn't love him anymore, why not simply say, "I still love you, but this marriage isn't what I want. I need to move forward. If you change your mind about what you want, let me know and maybe we can talk about it again."
This is such a small thing, but I wanted to throw something at the screen when she lied about not loving him. Why? Why do that? She was so cool, collected, and coherent. So evolved and self aware. Why lie in that situation?
Eh, it's not that important. It was a satisfying old rom com, and that's the bottom line.
Get it, Babs.