This week, I rewatched episodes seven and eight of the Star Wars series, and then eagerly saw The Rise of Skywalker for the first time — and I fell in love. Not with Kylo Ren/Ben Solo, not with Reylo (Rey + Kylo) but with Adam Driver.
Yup, it's official. I have a new favorite actor. The only other time I went through a person's imdb page and started watching every movie they've been in, it was for the love of Chris O'Dowd, and I highly recommend everyone else do the same. Both of these guys are fabulous in everything I've seen them in.
Heck, this new appreciation for Adam Driver even drove me to finally watch A Marriage Story, which I had been avoiding like the plague since it first came out. I am NOT a fan of sad endings, and that seemed to be the entire content of A Marriage Story. But I had to see more of Adam Driver, and I don't regret a single second. Talk about powerful performances, by both Driver and by Scarlett Johansson.
But I'm getting off topic. This post is about Reylo. So let's get into the meat of it.
Spoiler Warning: This post contains spoilers for The Rise of Skywalker, specifically concerning the relationship and character arcs of Rey and Kylo Ren/Ben Solo.
Abuse as Romance
I did not intend to make this topic a series, but what the heck. Let's do it.
I was inspired to write this in response to a blog post I read last night about Reylo. The site is called reellifebygrace, and you can read the post itself here.
No really, go read it. I'll wait.
In fact, if you watched The Force Awakens and The Last Jedi, and if you began shipping Rey and Kylo Ren (as I admittedly did), I INSIST you stop and go read that blog post. The author makes many, many excellent points about why Kylo Ren is a romantic abuser, with Ren as his victim, and any desire to have a romantic relationship between them is toxic.
She admits in an edit that she wrote the post before final movie was released, so she couldn't account for the completed character and relationship arcs. But her post — in the context of episodes 7-8 — is spot on.
Seriously, at least skim it. I'll even give you another link.
Why is this even a thing?
I could use Reylo as every example in my series on Writing Close. They share their secrets, both from their past and about their personalities. They also have their force connection that joins them and separates them from everyone else in the universe.
And then there was this moment.
Anybody else get chills when his voice came out of nowhere? "You're not alone."
And I haven't written this post in the Writing Close series yet (in fact, when I do write that post, I'll probably use this example), but Ren/Solo makes exceptions for Rey. The scene I'm specifically referencing is near the end of The Last Jedi. The pair are in the elevator, Rey in handcuffs, and Ren/Solo is delivering her to Snoke.
Rey talks to him openly and honestly, telling him that he can be better.
We've already seen how Kylo Ren reacts when anyone suggests he is in the wrong. He uses the force to throw them, choke them, or injure them in some way before they can finish speaking. Or if there's no one around when he's feeling low, he just takes his light saber to the nearest control panel and demolishes it.
But when Rey talks, he listens.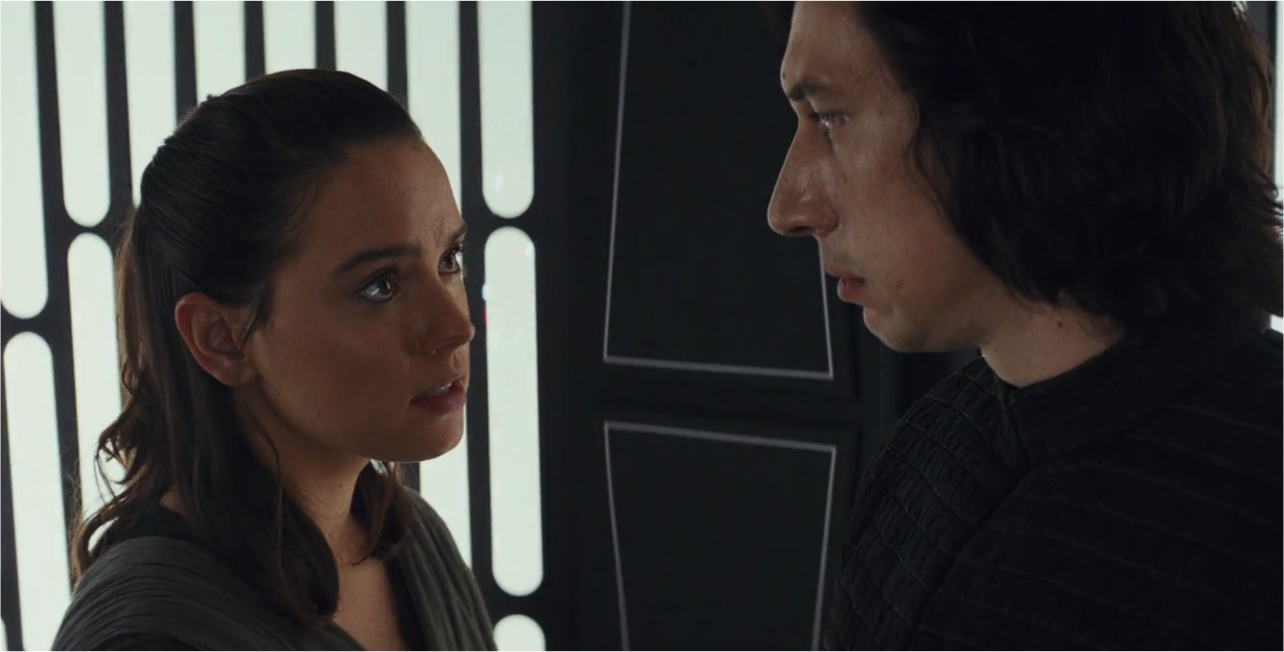 And if all that weren't enough, how about getting slapped in the face with this: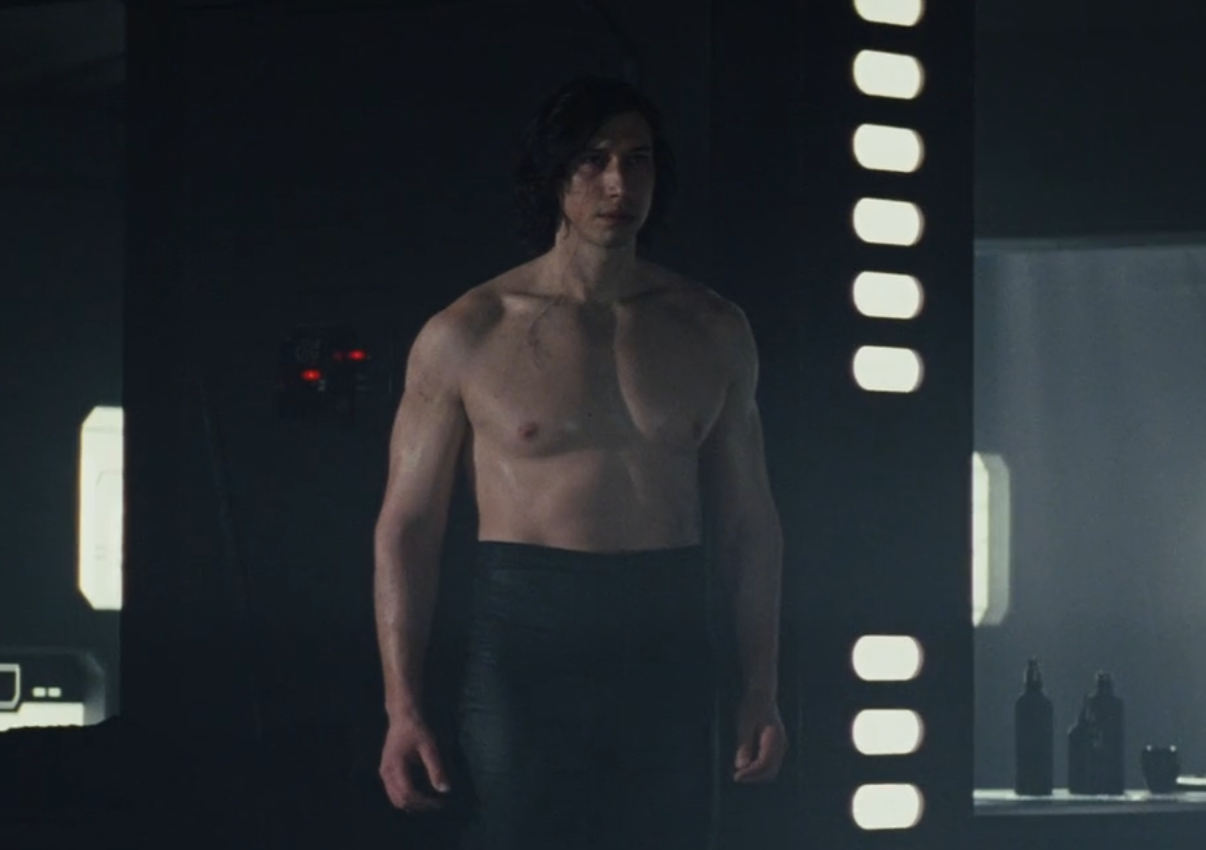 Not that I'm complaining. I mean… dayum. I never thought high waisted pants could look good on a man, but he makes it work.
So the building blocks are all there in episode eight. The screenwriters are giving their viewers all the signs that there is a budding romance here. They aren't setting up a platonic relationship with that shirtless scene, that's for sure.
Go ahead. Scroll up and look at it again. You know you know you want to.
I will admit here and now, the only reason I wanted to see the last installment so badly was because I wanted to see the relationship arc between Ren/Solo and Rey. And yes, I was looking forward to the romance hinted at in the first two movies.
But…
But if you read the blog post by reellifebygrace (go read it!), you'll know that when you mix in these signs of closeness with a healthy dose of abusive behavior from one character, you get a volatile mix. The author is 100% correct when she says NOBODY should be shipping Reylo at the end of The Last Jedi. At least, no one should be shipping the idea of Rey accepting Kylo Ren as is.
What they should be "shipping" is Ben Solo on his own. His conflicted character, his sympathetic need to be loved, his rage in his disappointment, all these make for a fascinating character, portrayed with power by Adam Driver's expressive face and body language.
And while many would call his redemption a bit forced and sudden, at least we can say we expected it to happen. How could we not? The precedent had already been set by Darth Vader, and the writers made it very clear throughout episodes 7 and 8 that Kylo Ren continued to struggle with the light side of the force.
Is it really so wrong, therefore, to hope for a little romance once that redemption has been earned?
Why It Works
Now we get to the point of this post. Finally.
I cannot condemn the relationship arc between Ren/Solo and Rey at any point in the three-movie series. Even without knowing that Kylo Ren would redeem himself and return to the light as Ben Solo, I still could not say that it was wrong for the screenwriters to portray their relationship as they did.
Why? One reason, and one reason only: Rey's response to Ben's abuse.
Writers should never whitewash abuse out of romance when the plot or characterization calls for it. That shit is real life, and it's wrong to pretend otherwise.
The only responsibility romance writers have is to ensure that they NEVER portray that abuse as romantic or desirable. Rey's consistent rejection of Kylo Ren's advances is how the writers avoided falling into that trap.
In fact, Rey only made one attempt to turn Kylo Ren back to the light toward the end of The Last Jedi. When that failed spectacularly, she moved on. She didn't try again and again to save a man who didn't want to be saved, which often happens in "bad boy" romance tropes.
Nope, she literally shut the door in his face. Bravo, Rey.
Redemption
When Ben Solo finally had his redemption, Rey did not bring it about. This is another point in favor of the romantic arc. When the love of a good woman saves a man from his evil ways, that's cheap drama.
Love will not change an abuser into a lover. It doesn't work like that. And fortunately for Reylo, that's not what happened.
Han and Leia, in conjunction with his own desire to be better, saved Ben Solo. Leia reached out to him at the crucial moment, and a vision of Han Solo cemented Ben's resolve. He cast away his light saber, took up a blaster like his father would have done, and ran to help Rey save the day.
Then, and only then, was it right for any consideration of romance between them.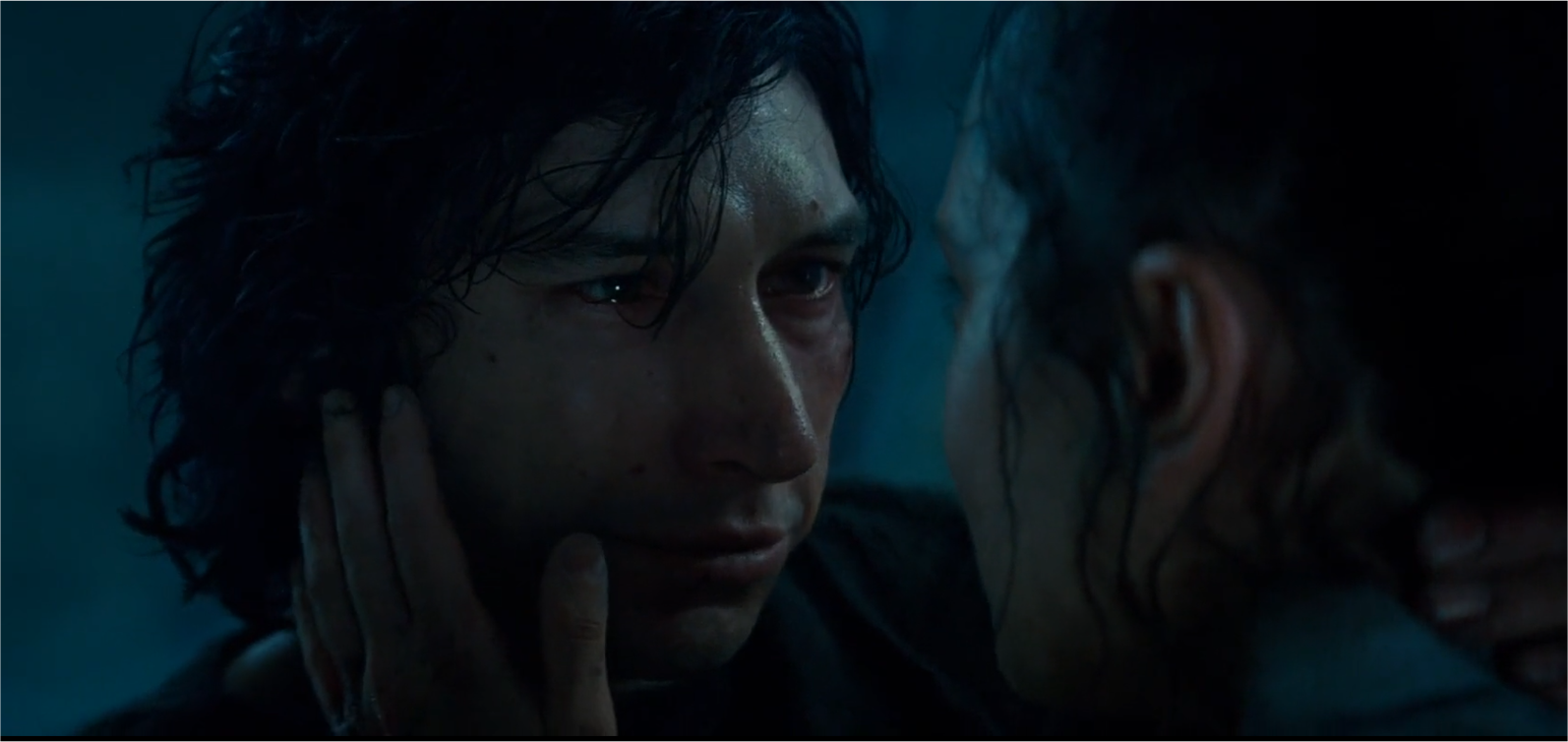 Of course Ben Solo could never make up for all the evil he did as Kylo Ren, but I don't feel even a little bad for enjoying their kiss and that goofy smile afterward. And I don't feel bad for shipping Reylo after The Last Jedi, either. The abusive behavior wasn't portrayed as acceptable or romantic at any point in the series, and the writers primed us for an upcoming redemption and subsequent romance. We were meant to ship them.
So while many Star Wars fans thought the romance entirely unnecessary, at least I can say it wasn't destructive.
Okay, so who wants to sign my petition to get Adam Driver and Chris O'Dowd starring in more romantic leads?