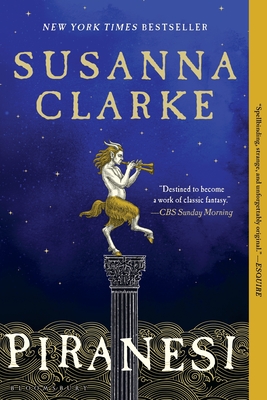 Author: Susanna Clarke
Published by: Bloomsbury
Publish date: September 15, 2020
Genre: Fantasy
Audience: Adult
Rating: Five Stars
Holy sweet baby Jesus I loved this book. It has been a long, long time since I sat down to read, and just got lost in the book. Even other books that I rate 5 stars, usually I have to make time to read. But not with Piranesi.
I'm not exactly sure what it was that really captured me. Was it the fascinating setting of The House? The endless labyrinth of crumbling architecture? Was it the Statues? Or the Tides in the lower floors or the clouds in the upper?
Or maybe it was Piranesi himself? The book is composed of his journal entries, and Piranesi is a meticulous academic. The way he documented things with the innocence of a child and the thoroughness of a scholar. He revered The House and The Dead and his own research to the point where I found myself revering them, too.
Piranesi is available in libraries and bookstores everywhere. Read more reviews on Goodreads.
No, come to think of it, I know exactly where I was hooked:
Since the World began it is certain that there have existed fifteen people. Possibly there have been more; but I am a scientist and must proceed according to the evidence.

Piranesi – Susanna Clarke
And there he lays out a careful list of thirteen skeletons, Himself, and the Other. And during the part about the Other:
Piranesi. It is what he calls me.
Which is strange because as far as I remember it is not my name.

Piranesi – Susanna Clarke
The way in which he cares for the Dead fascinate me, and the mystery of The House begins to reveal itself. Who are these thirteen Dead? Where did they come from? How long had they been there? Why only thirteen?
And why doesn't Piranesi know his name? And how does he know Piranesi isn't correct? Why does the Other call him that?
At that point, I had to know what The House was. I had to know how Piranesi and the Other got there. I had to know what was going on. And with Piranesi's innocent, articulate, reverent voice, it was a joy to find out.
Pros/Cons
Usually in my reviews I list the pros and the cons, but I can't really do that here. I have zero negatives to talk about. I'll admit the odd grammar choices for Piranesi's writing was a little odd, but I got used to it quickly and it really was vital for his characterization. It fit.
And I can understand why some might call it slow, but I didn't feel bored even for a minute. I felt like Piranesi did. That I was a Blessed Child of the House. That my time spent reading was peaceful and right and uncomplicated – and yet fascinating.
This book won't be for everyone, but by god I loved it. It's definitely going to be a re-read for me.
What did you think of Piranesi? Let me know in the comments below. And don't forget to check out my other reviews before you go!