Hello all! I'm back with a new digital painting, and I'm pretty jazzed about it. It's called Cael, which is a character from my short-story-in-progress, The Glass Wheel.
Yes, yes, I know I need to make a post about that, and I will. Probably immediately after I post this one haha!
But this post is about the painting, so let's get to the nitty gritty. As you all know, I'm still learning how to produce an enjoyable image. I've got an artistic eye already, but this is an entirely new medium for me. The process is coming along well (considering this is an "in my free time and as I feel like it" kind of hobby), and I'm very pleased with how this one turned out.
Cael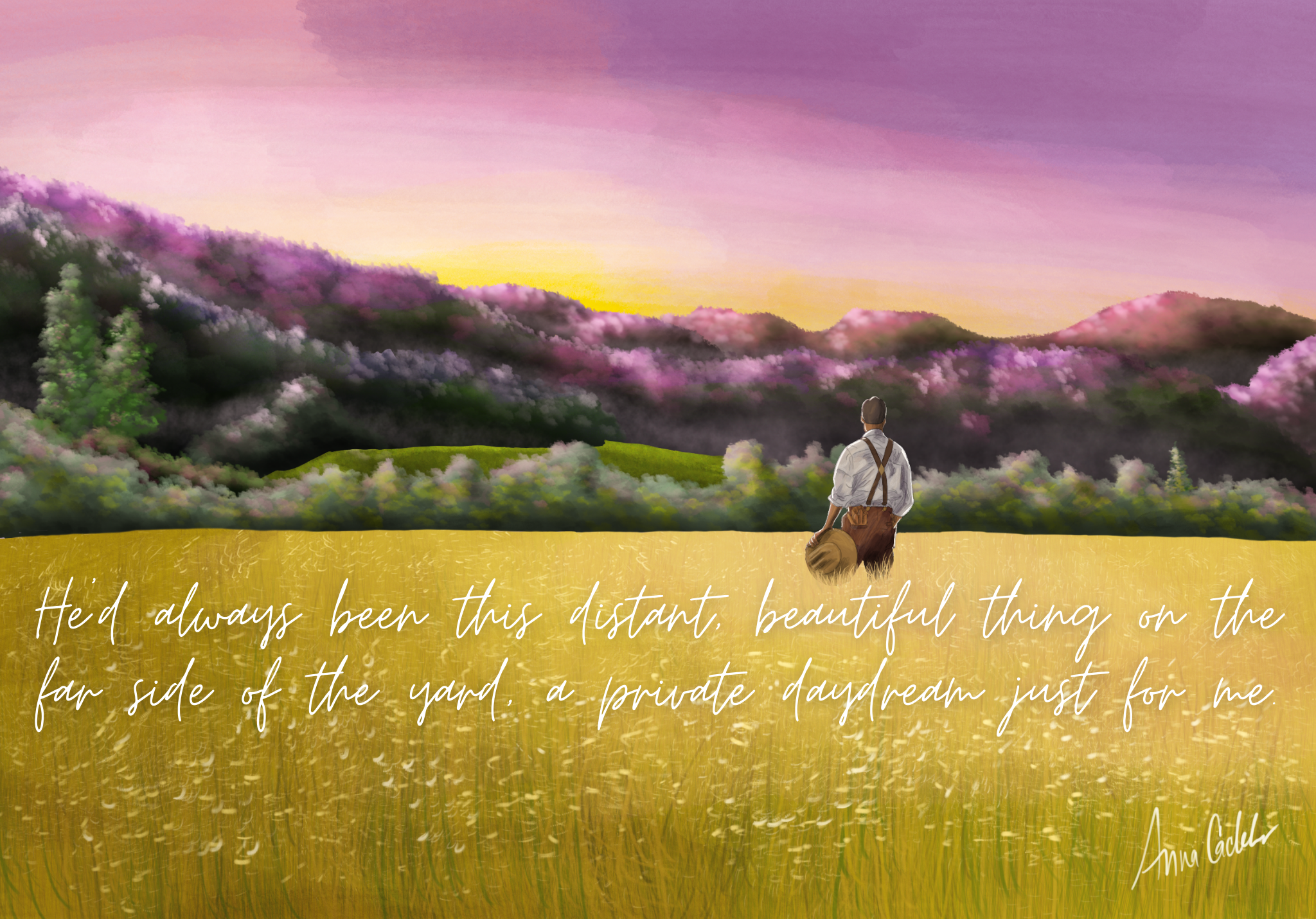 There it is! Isn't it beautiful? I just love the colors.
The goal here was to NOT spend weeks and weeks on it. I tend to obsess over things, which can completely derail my life, and that's something I need to work on. I wrote a paragraph in the short story, and I was immediately struck with this image. I wanted to get it down as quickly as possible and then get back to writing. Because until I got it done, I knew I'd have a terrible time trying to focus on anything else. Here's the paragraph below:
Cael stood near the front door, his hat in his hands. Our farm hand, the one we'd taken on when we'd expanded into two new fields a few years before. He'd always been this distant, beautiful thing on the far side of the yard, a private daydream just for me. I used to watch him from this very window as he bundled up the flax to dry in tidy little towers, or stood staring at the sunset. 

The Glass Wheel – Anna Cackler
I have no idea if this paragraph (whole or in part) will make it into the final draft. But in the moment, I just had to paint that sunset that Cael loved to stare at. I had to paint him the way Aurora saw him. Her private daydream in the rosy light of a sunset.
Oh god, look at me getting all gushy and pink. Ahem! Anyway…
So this painting took me less than one day's worth of free time. I already see a few things I could have done better, but I'm trying to avoid going back and "fixing" things in completed paintings. Instead, I'll take those lessons and apply them to the next one.
Here's the time lapse video below! Let me know what you think! And stay tuned. The Glass Wheel will (absolutely and without any setbacks or pub date changes) be available on March 13th, free to all subscribers.
And yes, I totally figured out how to add music to my videos! ;D