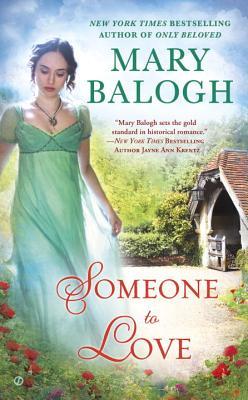 Author: Mary Balogh
Series: Westcot #1
Published by: Berkley
Publish date: November 8, 2016
Genre: Historical Romance
Audience: Adult
Rating: Five Stars
If you're into historical romance, then this book is for you. Period. It's been a long, long time since I've found a book that I can't wait to get back to. Someone to Love was exactly that book. The characterizations for Avery and Anna were deep, well drawn, and produced a romance that was both inevitable and satisfying.
I don't think I have a single bad thing to say about this book. The plot was well paced, simple, but never boring. Often the reluctantly-in-love trope can be quite cliche, but Avery's realization of his feelings and the way he reacts to them are handled very smoothly. He is annoyed by his feelings for Anna, and he's quite baffled about it. But he doesn't fight it. He doesn't pretend, there's no "if only they'd talk about it!" It just works.
Someone to Love is available in bookstores, on Amazon, and your local library. You can read more reviews for it on Goodreads.
The writing can't compare to Jane Austin of course (who wrote in a similar time period), but it does a hell of a lot better than most modern-written historical romances. The language is just modern enough to be easy to read without sounding anachronistic. Even better, the voice is quite natural. There's nothing worse than a historical romance author wants really, really badly to write for a certain time period, but ends up trying way too hard and sounds silly instead. Someone to Love did NOT have that problem.
Speaking of the writing, one of the things that I love so much about Jane Austin is how she can distill a large idea into a single, witty, concise expression. That's something author Mary Balogh captured beautifully in this book:
Not many people go adventuring. And even those who do have to take themselves with them. That must turn out to be a bit of a disappointment.

Someone to Love by Mary Balogh – Chapter 1
"…he was being extraordinarily cruel to the countess and her children [by giving their inheritance to me]."

"Or kind at last to you," he said.

"There is no kindness in money," she said.

Someone to Love by Mary Balogh – Chapter 7
Avery liked that last line as well. I'm pretty sure every time Anna opened her mouth, he fell in love with her a little more. Which I also loved, by the way.
Characterization
Avery fell in love with her because of the things she said and the actions she took. Not because she was pretty or because there was no alternative. Not because they happened to spend time together. And not because she was disobedient, which I am so tired of these days. Anna had an actual personality, not just "I'll do what I want!"
And since I'm on the topic of personality, Avery's was quite refreshing. Plenty of time was spent on developing more than just "hot, rich, grumpy dude." In fact, he wasn't all that hot compared to other male characters. He was described as short, thin, and even effeminate once or twice. He had a ton of fussy affectations, but somehow he always felt in charge, capable, strong, and intimidating.
His wit was my favorite part. He always had a sarcastic comment and an innocent expression ready to whip out at the slightest provocation, and I just ate it up.
When asked what he would have done if a certain sergeant hadn't back down from an argument, Avery said:
"I should have been forced to render him unconscious – with the greatest reluctance. I am not a violent man. Besides, it might have hurt his feelings to be downed by a fellow Englishman no more than half his size."

Someone to Love by Mary Balogh – Chapter 9
When a fussy dance instructor was attempting to teach Anna to dance, he immediately got fed up with the whole thing.
"Or," Avery said with a sigh, "you can waltz with me, Anna, at the proper pace with music. I shall not count aloud, however, having discovered that is possible to do so silently within the confines of one's own mind.

Someone to Love by Mary Balogh – Chapter 9
After dealing a painful blow to another man in a duel:
"That was a dirty hit," Uxbury said from between his teeth.
"Did you get dirt on your shirt?" Avery asked. "But I daresay it will wash out."

Someone to Love by Mary Balogh – Chapter 17
I could go on and on, but you get the point.
The only thing…
… I could possible want more of is steam. The book is not prudish by any means. It certainly doesn't skirt around the big moment and it doesn't disappoint, but my personal preference is for a bit more heat. Just, one level more would have made this book absolutely perfect. But as is, it'll have to settle as an almost completely perfect historical romance. I'm happy to trade a heat level for such a fantastic romantic relationship on the page. In my opinion anyway.
And if I just had to come up with another con, then maybe I'd say it was a bit hard to keep up with all the side family members. But all the important people are distinct and easy to follow, so that's not much of a complaint, really.
Have you read Someone to Love? Let me know what you thought about it in the comments! And don't forget to check out my other reviews before you go!