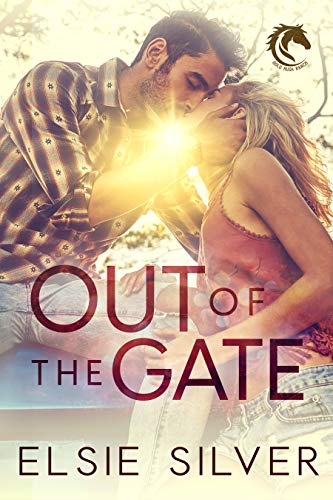 Author: Elsie Silver
Published by: Amazon
Publish date: March 23, 2021
Genre: Romance
Audience: Adult
Rating: Four Stars
Saddle your horses and — oh who am I kidding? I'm terrible at ranch cliches. I won't even try. Author Elsie Silver mercifully skipped all the puns and cliches as well when writing this snippet of ranch romance, opting instead for vibrant settings and well rounded characters to drive interest.
Lately it seems like I have no free time at all (which has also meant a sharp decline on blog posts). So when looking for my next book to review, the low word count for Out of the Gate was a huge draw. A quick, satisfying, low-pressure, romance read was exactly what I was looking for, and that's exactly what I got.
Out of the Gate is available now on Amazon. You can read more reviews for it on Goodreads.
This being a short novel, basically just an introduction to a much larger series, Silver did an excellent job of keeping her focus narrow. Dermot and Ada, the two main characters, were very well rounded and likable, though Dermot's attitude was slightly frustrating from time to time. More on that later.
If you've read my reviews before, you'll know characterization is EVERYTHING to me. And these characters did not disappoint. I could picture them in my mind on every page. I could hear their voices in my mind as I read. Their motivations and personalities were consistent, and both were rounded out with realistic character flaws.
Ada's determination was especially good. It effected every aspect of her life, not just her ambitions for raising racehorses. She was determined to go after what she wanted romantically, and she was determined to move on when things went south. She was master of herself at all times, and that's a rare find in romance.
If I absolutely have to find a complaint, it would have to be in the main source of conflict between them, which was a little cliched. Beware of mild spoilers ahead.
An Attitude Adjustment
This was a short novel, so understandably there wasn't much time to cultivate a complex conflict and climax. That being the case, Silver opted for the tried and true "I'm not good enough for you" attitude from Dermot, causing him to run away from what he really wanted.
I usually hate this attitude from any romantic interest, and I didn't much enjoy it from Dermot. It's arrogant and a little whiney. It's up to the other person to decide if they like you, not the other way around. And though this is perfectly realistic for some people in life, it's getting a little tired in literature. I'm more interested in characters who know themselves and put themselves out there. Maybe this is just a personal preference, but it's what I've got to work with.

Fortunately, Ada seemed to agree with me on the subject. And the way she handled Dermot's misguided perspective was spot-on exactly what I would have done in her shoes. No bullshit from her. She's my kind of ranch rat.
All in all, Elsie Silver is a writer to follow. She's got the voice, she's got the focus, and she's got the skill. I'll certainly be adding the Gold Rush Ranch series to my to-read list.
What did you think of Out of the Gate? Let me know in the comments below! And don't forget to check out my other recommendations here before you go.