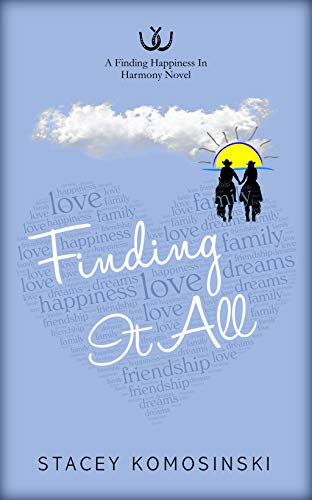 Author: Stacey Komosinski
Published by: Amazon
Publish date: December 30, 2020
Genre: Romance
Audience: Adult
Rating: Three Stars
Finding It All is a sweet, low pressure read. It is basically a ready-made lazy afternoon. Grab a cup of warm coffee or tea, cozy up with a blanket, and settle in. Every character is likable and well rounded, there's a hint of fantasy (in the form of ambiguous precognition), and the main love interests have great chemistry.
All that being said, unfortunately I couldn't finish this book. I only got about 14% in, and I lost interest.
So why did I rate it three stars?
Usually a DNF from me is an automatic one star rating, but even though Finding It All didn't hold my interest, I can't call it a bad book.
I think this was a case of a book in the wrong hands. It's simply not my kind of story. I prefer books with a bit of tension, a few questions that keep me turning the page. I like a more imperfect main character and the occasional bad decision that needs to be handled.
But Finding It All isn't like that. Life for the main character, Chloe, is basically perfect. She has a good job and great friends and roommates. They live a peaceful life working, dancing, shopping, and eating home-cooked meals.
The only thing missing from her life is a little love. And when she meets a good man early in the story, their romantic journey continues how you might expect: butterflies and a sweet first date.

All this is lovely. Honestly, it was sweet and relaxing. But by the 14% mark, there was still no plot to speak of. No actions, no consequences of those actions. There was nothing at risk, and everything to gain. It's a nice person moving through her nice life, looking forward to a nice date.
So while others will probably enjoy this book immensely, I prefer a story with a bit more kick.
Technical Notes
Stacey Komosinski has a pleasant voice, though immersion is damaged by frequent filter words. The book was cleanly edited and free of typos, and the descriptions were vivid without taking up too much page space. I could basically feel the sweat and joy as the girls danced at Gaby's salsa class.
I look forward to trying out Komosinski's future books. Even though Finding It All wasn't for me, I can tell she is a skilled writer who's got a long career ahead of her.
What did you think of Finding It All? Let me know in the comments below! And don't forget to check out my other book reviews here.